The back end of November was approaching and I felt the need for what would likely be one last long, full day's ride of the year. I'd taken the Wednesday off work and had a route planned to take me Northwards. I'd heard that Eynsford was a nice place to visit and I calculated that it was a good 100km ride away. The weather forecast indicated that the wind was going to be relatively accommodating so I got ready to ride.
I wanted to travel light but still took a pannier with me as this was going to be a one way ride and I wanted some warm clothes to change into for the train journey home. As I got up in the morning it was clear that I was going to need them. I looked out of the bedroom window and then rushed down and out of the back door to check that my eyes were seeing right in the half light. They were. There had been snow overnight. It wasn't much; only a light dusting, but it had settled. I decided to carry on as planned and had a good warm breakfast to set me up for the day, knowing that it was possible that I might have to abandon or at least severely curtail the riding. Being so close to the coast we don't normally get much snow. It's normally worse inland and I was going to be heading directly away from the Channel and climbing up onto The Weald.
It was therefore a pleasant surprise to find the snow vanished as soon as I climbed up onto, and beyond, the ridge that marks the northern edge of Hastings. I was soon out of the town and turning off the busy urban roads straight onto quiet back lanes. There was no evidence of there having been any snow here at all. The morning wasn't warm but I was properly layered up and relishing the riding. I passed through Three Oaks and Doleham and skirted around the East side of Westfield where I re-joined the main road for the short and nasty little climb up into Brede. It wasn't long however before I was leaving these roads, which I knew well, and turned off onto Pottery Lane and onto some virgin Weald lanes.
I was in my element now with my traditional riding technique of building up a nice steady rhythm before screeching to a halt to admire a wonderful view across the Weald.
Before too long I was through Ewhurst Green and dropping back onto familiar roads on the approach to Bodiam Castle, which is of course impossible to pass without popping in for a photo.
North of Bodiam and I was still riding nicely along the quiet back lanes of the Weald. Some of these I had ridden before; some were new to me. All were lovely.
A few miles north of Bodiam I picked up cycle route NCN18 near to Iden Green and would follow it for some while as it rolled up and down the rolling Weald hills pushing me slowly North Westwards passing close to, whilst avoiding, Cranbrook, Hawkhurst and Goudhurst. The riding was tough in places but enjoyable.
After passing a field of Alpacas and a small pen of pigs, the route heads into and through Bedgebury Forest, which is a lovely little bit of riding.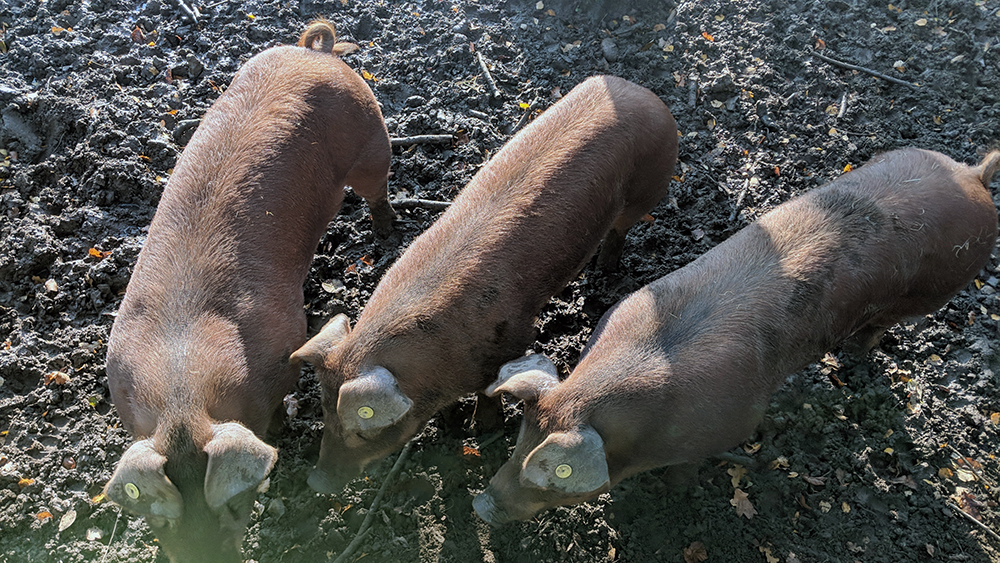 West of Bedgebury I stopped for a sausage roll and a can of pop at Matfield which would be where I would leave route 18 and continue pushing North through Colt's Hill and Capel before heading in towards Tonbridge.
Tonbridge does not have the nicest cycling infrastructure, or if it does I didn't find it. The odd cycle path cut through some otherwise dead ends, but there was a lot of riding to be done on the town's busy, tight streets. I diverted towards Tonbridge Castle briefly and then headed out of town along the main road to Hildenborough which I had earmarked as my destination spot for lunch.
I had been aware of Café 1809 for some time and had long been meaning to visit, but had found out recently that its owner was closing it this week to try her hand at other endeavours instead. This trip had therefore felt like a chance to pay a visit and it was perfectly placed along my route.
I parked up outside the café using one of the many decent bike racks and made my way inside where I ordered a jacket spud and a coffee or two which hot the spot perfectly. I had been starting to get a little tired and cold before I got to the café. Though there might not have been any more sign of snow, the day was far from toasty. It wasn't long though before I was feeling the warmth from the café and the welcome from the staff.
Feeling fully refreshed I plucked up the courage to say hello to the owner and grab a selfie with her. Café 1809 is named after the bib number that Dame Kelly Holmes wore when she won the 400m and 800m Olympic titles in the 2004 Athens Olympics. Needless to say Dame Kelly was lovely and charm personified. She managed to both put me at ease whilst totally accentuating the difference between an overweight middle aged man and a true athlete. She also knows how to pose for a selfie a hell of a lot better than me.
I left the café and veered slightly Westwards following Noble Tree Road before heading back North on Egg Pie Lane!
I soon passed more Alpacas (I don't think anyone in Kent keeps sheep anymore) and rolled along to the village of Sevenoaks Weald where I got an unexpected chance for another short rest as a builders merchant's lorry was entirely blocking the small lane so I got out of the saddle and stretched my legs for a few minutes.
Although mildly annoying if I had to stop anywhere, then this was a good place. I had come this way as I was aiming for the climb that lay ahead of me, so it was nice to get ready for it. I had got a bit out of practice on the hills over the last month or two and at over 45 miles into the day was starting to feel the miles. The climb started well though, and I easily made it on the bridge that crosses high above the A21.
The bridge, which is angled quite steeply as the road climbs up the hill, is quite a landmark when driving North from home. I'd often wondered what was above it and now I was finding out. I was happy therefore to use the opportunity of taking some photos back down from the bridge in order to get my breath back.
I regretted doing so however, as after stopping I struggled to get back into a rhythm and found it stop-start up to the top of the hill. I made it eventually though. What's more, now I was here I had a few miles of largely downhill riding. First along the Southern edge of Knole Park (with deer running around just off to my left behind the big chain link fence), and then heading North again I had a long easy drop down towards the M25 which I was soon passing underneath.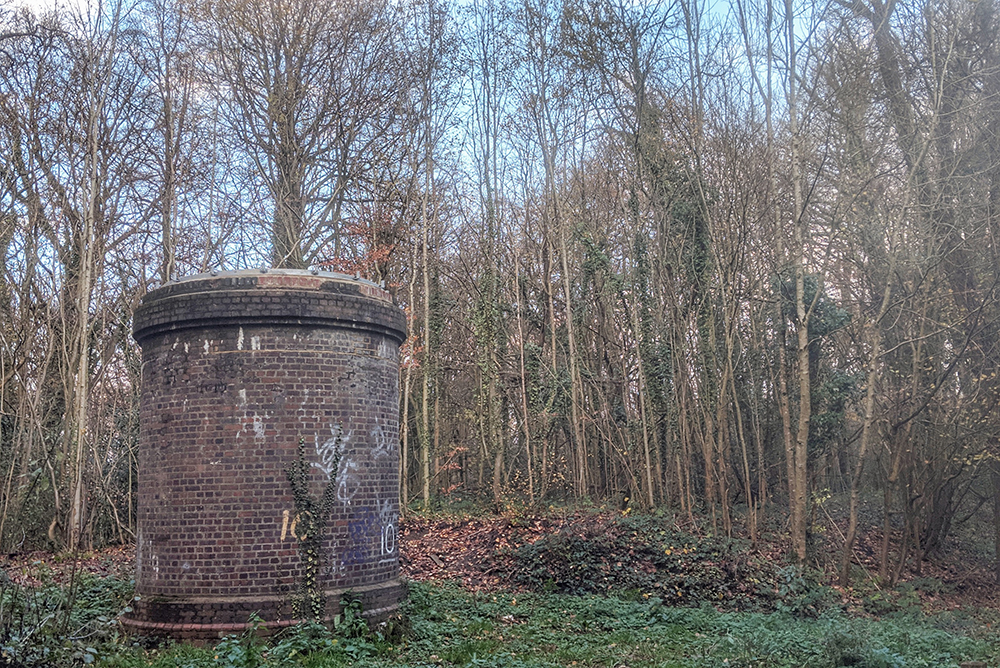 I still had one big and final climb to go and I was very soon upon it. The Cotsman Ash Lane Climb turned out to be one hill too far. I struggled up having to walk up a part of the steepest section. When I did feel ready to get back on and ride it was only a matter of seconds before my left leg cramped up. I had to jump off the bike and stretch it out. I was soon going again but was glad to see the brow of the hill finally appear. I did still have another five miles before I would get into Eynsford; but it really was now all downhill from here.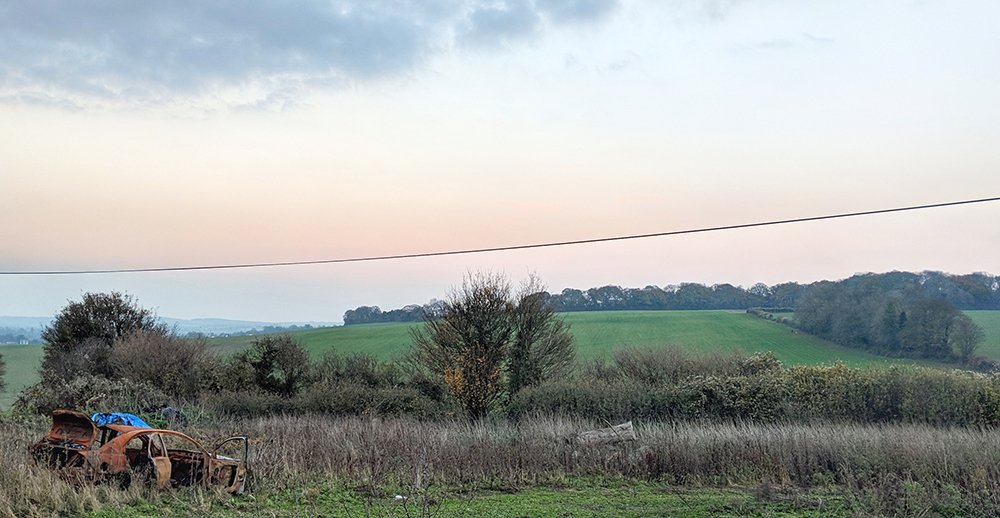 I rolled down into the village and headed straight for the Castle; a small Norman keep by the River Darent.
Finally I then passed back to the picturesque Ford from which the village takes its name. It might have been more picturesque if it didn't have a broken down van sitting in the middle of the river, but it still looked nice. The light started to fade.
I took that as my cue to think about heading for home. I rode the short way to the station; sneakily got changed out of my cycling gear into the spare, warm clothes I was carrying in my pannier, and awaited the train back to Hastings (via a change and a coffee at Sevenoaks).
Stats:
Distance: 62.54 Miles
Ride Time: 5 Hours 32 minutes and 34 seconds
Average Speed: 11.28 mph
Ascent: 5,311 feet