With another big multi day ride looming in a few weeks I had booked a Wednesday off work with the aim of spending it in the saddle getting in some practice. After my previous successful trip around the Isle of Wight I was up for the idea of spending another day where I get up early and drive out somewhere in order to be able to take in some sights other than my regular Kent and Sussex sites.
I had a couple of possible routes in mind; one around the New Forest and another starting in that area but taking in a wider circuit around Wilts and Dorset as well as Hampshire. With the intention of getting in a fair bit more than 100Km I plumped for the latter option, having determined a route of about 135km starting and ending in Ridgewood and taking in Salisbury, Shaftesbury, Blandford Forum and Wimborne Minster.
As I had done on the Isle of Wight trip I prepared everything in advance. My pannier was packed and loaded along with the bike into the car the night before so that I could get up and be on the road nice and early. However one thing was not fitting to plan so well. The previous Saturday I had been into Brighton to see the return after almost 20 years of one of my favourite "Brit Pop" bands, Sleeper. The gig, in the small and crowded Haunt venue was excellent; however it became apparent that someone close to me was spreading germs in the environment as by Tuesday evening I was beginning to feel quite rough with a summer cold.
I chose to ignore it on Wednesday morning though, and by half five I was in my car and heading West. I grabbed some breakfast on the way. The Isle of Wight trip was on a Saturday when the early morning roads were much less busy. Also, although I would be starting at a similar time, the drive to Ringwood was quite a bit further than that to Portsmouth which I had done previously.
Still, the drive was largely uneventful and I rolled into Ringwood and parked up on a quiet residential road at just gone half past eight. As the weather forecast had promised, as I had headed west the weather had got wetter and the rain was quite solid by the time I crossed into Hampshire. I therefore took my time in getting the bike out of the car and ready to roll but I was on my way before 9am.
The rain was still solid, though not torrential, a I headed out of Ringwood towards the minor road running northwards along the western side of the New Forest National Park. I didn't have far to travel before making my first route alteration of the day. At a lovely triangular junction just inside the park, I stopped to smile and take a picture at the road sign pointing towards the excellently named village of Mockbeggar. It later transpired that I should in fact have followed the sign and ridden through said village; instead I veered off towards the right heading for Linwood. After a few lovely miles across the forest I began to realise that I hadn't apparently come into either North or South Gorley so I stopped to look at the GPS and realised I was heading eastwards across a part of the New Forest where I was not supposed to be.
Sticking my maps apps into satellite view mode I had to choose between doubling back to the Mockbeggar sign or trying some cross country footpaths to bring me back onto my planned route close to Frogham. From the satellite the tracks looked good so I decided to head across the heath. On the whole it made for quite a pleasant, if slow, diversion. However it turns out that the New Forest includes some large patches of very sandy soil which necessitated walking the bike in places – my 32mm tyres can cope with some loose ground, but not that loose.
Despite having to push the bike across the worst of the sandy sections and the persistent rain it was nice to be out in the open countryside which I had entirely to myself. Just before re-joining some proper road surfaces I came across a family of New Forest ponies which also helped to make my 'short cut' worth the while. It wasn't much further until I re-joined my original planned route close to the amusingly named 'Sandy Balls' campsite in Godshill.
From there I was back onto following a series of minor roads. There was a short sharp climb onto Castle Hill and then a long straight drive and a drop down into Woodgreen. From here I followed the Avon Valley into Downton. In Downton, a very pretty little town centred around some old mill buildings on the Avon, I had the choice of a couple of possible routes. Having lost some time and having established that the roads in the area seemed to be quite quiet I elected to follow the A338 towards Salisbury. Although there was a fair amount of traffic here the road was flat and open and it was good to be making some proper progress and catching up on some lost time.
Before long I was at Nunton on the edge of Salisbury. From here the original plan was to head into the city centre and along to Wilton before dropping back South West towards Shaftesbury. Instead however, after a good check of my maps, I decided to make a change of plan. I know Salisbury very well; it's a city I grew up visiting and also worked in for a number of years. It would have been nice to ride around the meadows by the Cathedral; however it was not really a must do part of the ride. I was also feeling the effects of my cold a bit and didn't fancy the stop-start riding that cities inevitably invoke.
Instead I headed west from Nunton and followed the minor road through Odstock, Homington and Coombe Bissett. I was glad that I did. The villages in the Ebble valley are all very pretty. Also, although not flat I was avoiding a climb out of Wilton up past Salisbury race course. Before Bishopstone I re-joined the original planned route and continued on through some more pretty villages rolling up and down the valley side.
I was starting to get low on water so stopped at the lovely village stores in Broad Chalke. The well stocked community shop has been fitted into an old chapel and is an excellent asset to the community. I resisted the temptation to get a coffee as well although it was sorely tempting.
Having been re-evaluating my plans for the day in light of the weather (both of the rain and the 'feeling under the…' varieties) I made a phone call. Well I would have done but there was no signal so I pushed on.
Somewhere beyond Fifield Bavant (a tiny hamlet with a fantastic little church hiding just beyond the few houses) my phone started beeping at me indicating that I had a signal. I pulled over to the verge on what had been right until that moment an almost unused road. Immediately upon using the phone there was suddenly an apparently non stop stream of traffic. It didn't make for the best place to have a conversation but I managed a couple of calls anyway. One call was to my parents who live in the area to see if they fancied meeting me for a coffee in Shaftesbury. The other call was to tell me that I'd been successful in getting a promotion at work; but that's incidental to this story.
A few more wet, pretty, but uneventful miles brought me past Berwick St John and up to the A30. As I had done earlier, I elected to follow the main road for a few miles rather than add a detour around some minor lanes. Other than a short climb out of Ludwell it was another good and easy choice and I was soon pulling up at the town hall in the centre of Shaftesbury.
Having made it a good twenty minutes before my parents said that they would be there I wandered around to look at the famous Gold Hill. I didn't ride up it, nor did I put on a random Yorkshire accent (the hill was famously used in a Hovis bread advert that gave the impression that the hill had been relocated 200 miles north).
I locked the bike up, met my parents and we headed into the local Costa Coffee for a sandwich and drinks. It was nice to catch up with them and though I had now decided that I was going to be cutting up to 20 miles from the ride I wasn't feeling great and so it felt like the sensible decision. After a little over an hour's break we said goodbye and I got back under way.
The original plan had involved heading due south towards Blandford Forum and then heading back from there towards Ringwood via Wimborne Minster. Instead I now elected to take the direct route back across Cranborne Chase. I'd be following a busier road (the B3081) but as before I had suspected (largely correctly) that it wouldn't be too busy.
Doubling back out of Shaftesbury the way I had entered I was heading for a road infamous in my childhood growing up in the area; but one that I had never cycled.
Over the roundabout at the edge of the town I hung a right initially towards Melbury Abbas but then took a left before entering that village. I had an easy couple of miles to prepare me for what I knew was coming. I let the legs warm back up after lunch and then before long there it was.
I was at the bottom of "Zig Zag Hill". The name is a giveaway. It marks the climb up onto the chalk downloads of the Chase that straddle the Wiltshire and Dorset border. The hill (or its neighbouring climb onto Spread Eagle Hill) were staples of childhood summer days out to the south coast. We always cheered Dad on to push the car faster up the winding climb.
Coming to the hill for the first time under my own steam therefore felt like a big thing. At the bottom of the hill I dropped into a lower gear and eased myself into climbing mode.
Apparently it turns out that zig zag hill isn't as awful as memory had it and the last few years living near, and riding over, the South Downs has prepared me for worse. The road surface wasn't great but the nature of the zig zags themselves meant the ride was actually quite easy. I'm not going to claim to have flown up the hill, it just wasn't a patch on my mental image of it. The climb from Hastings sea front to my house is worse and i do that happily several times a week.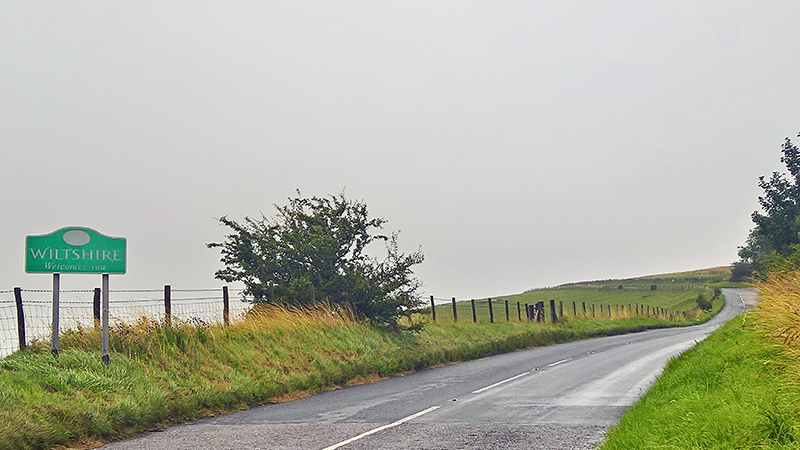 The hill continues up beyond the initial zig zags but it is still a simple climb and once out of the tree lined zig zags there is a great view across Wiltshire from the top of the downs.
Once on the Chase proper the riding was largely lovely rolling countryside with fantastic open views. A few miles over the hills I stopped to try and help another cyclist. He had problems work his gears and also had a flat. I would have offered him a spare tube but his tyres were much thinner than my 32s and I had to leave him there. He told me he wasn't far from home so hopefully he managed to get enough air in to get him back.
From that point the road started to drop back down a bit into the lovely village of Tollard Royal. The road into and through the village is narrow and winding so I was in the great position of being able to pass through much quicker than the motorists behind me. They soon overtook as the climb back out of the village started though.
It wasn't much of a climb but was certainly slower than the ride into the village. Despite that I was soon back onto the open hills. Some more rolling roads and I was passing through Sixpenny Handley, across the main Blandford – Salisbury road, and onto the south east section of the Chase.
By now the weather had improved and the rain had finally stopped. However I was feeling the effects of riding when not 100%. The final miles across the Chase were easy enough as they slowly dropped downhill.
I left the main road at the edge of the Chase and dropped down into Edmondsham, a small and pretty village with a nasty little climb at its far end (well it probably wasn't nasty bit i was getting fatigued now).
Before long I was on the edge of Verwood and within about five miles of the car. It was also now rush hour and the ride from Verwood towards Ringwood was pretty unpleasant as a lot of cars passed by too close to be enjoyable. However once underneath the A31 the final miles into Ringwood were some of the nicest; following a disused rail line and so very shortly I was back in Ringwood, back at the car, and ready to drive home.
The weather and my cold had reduced the pleasure of the day a little but it was still a lovely ride across some beautiful countryside and was a great way to spend a day off work.
Stats:
Distance: 67.5 Miles
Ride Time: 5 Hours 9 minutes and 7 seconds
Average Speed: 13.1 mph
Ascent: 4,650 feet